Fully Customisable
Facility & Asset Management
All Facilities need systems in place to manage the mountain of tasks that demand attention on a daily bases, however we understand that no two facilities are the same, that's why we build customised systems that fit your facility perfectly. Things can go downhill quickly if the intricate web of operational rhythms and compliance requirements aren't flowing smoothly. That's why top facility leaders turn to IMS to ensure the very best flow of systems are in place to efficiently manage their facility.
Smart systems that support your staff and facility.
Compliance Checks
Make sure your facility remains compliant with customisable intuitive checklists.
Maintenance Tasks
Receive maintenance alerts, work orders, job progress, task communication and completion status from a bird's eye management view.
Legal Risk & WHS Incident Management
Receive risk alerts, log incident reporting and view progress status along with easily generated statistics reporting.
Asset Management
Receive servicing reminders, maintenance requests and insurance alerts about your facilities assets and keep interactive asset checklists all in one place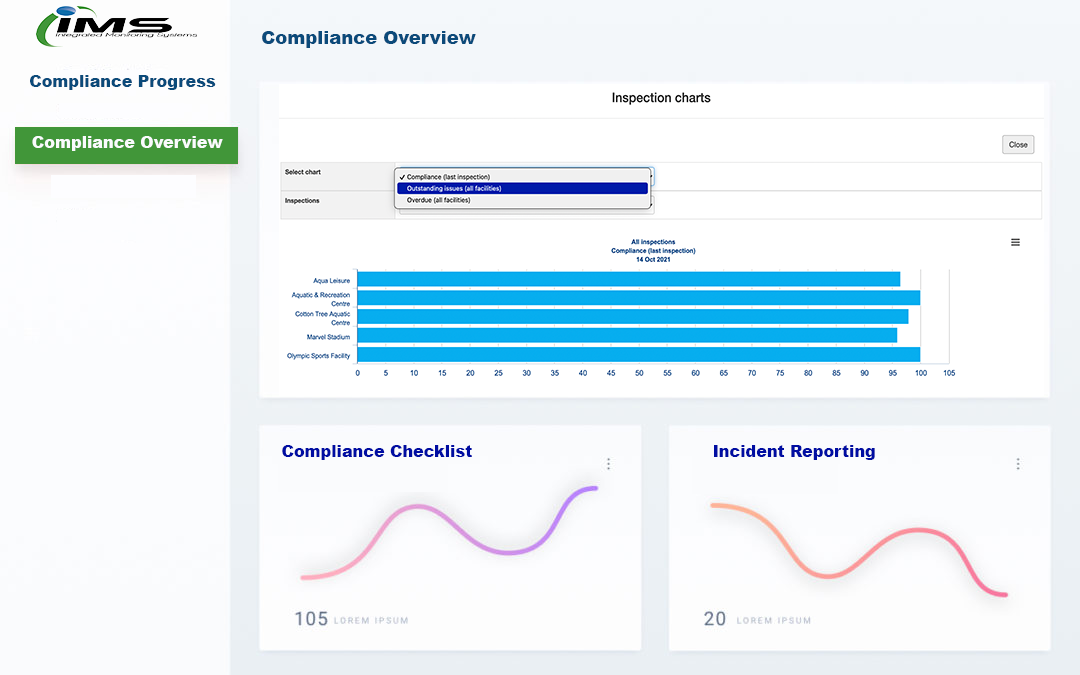 Always in the know
Whether you're at the office, on the road or at the beach! Your IMS management dashboard will give you a complete overview of whats really happening at your facility.
View staff data entries, check on in-progress jobs, receive intuitive alerts and email reminders and be sure your compliance requirements are being met all from any online device.
Inspections
Facility checklists
(open, close, weekly, maintenance)
Record any non-compliant issues, take and upload photos directly into your system and assign a staff member to it's completion.
Record all completion data and photos
See your facilities compliance rating and progress
Multiple Facility Audits
Manage Contract inspections
Attach reference documents, photos or evidence to any inspection entry.
Incident and Maintenance Reporting
Easily record any incidences as they happen
Record key incident information, attach photo evidence and or statements.
Assign any issues to staff member or user account
Track staff responsibility and action
View task completion, progress or status
Receive auto alerts and intuitive reminders
Send Maintenance requests to group addresses
Illness & Injury
Fill out the smart form with all the relative and required information, attach photos, record staff comments etc.
Identify common illness and obtain reporting and trend data
Identify common injuries at your facility and action a prevention plan.
Log key information
Receive management alerts when an injury is logged
Receive intuitive reminders to track compliance and follow up.
Let's Get Started
Ready To Super Charge your Facilities Processes?